Arguably, our likelihood for success drastically improves when the assigned teams and leaders have accountability for the entire end-to-end journey (idea to successful product). Partial assignments for just a front end of innovation, discovery, or technology development while expecting to pass a baton for someone else to carry it over the finish line, leaves too many vulnerabilities and decreases our chances to get it right the first time. This is particularly applicable when aiming to deliver transformational results in a complex large-scale enterprise environment involving sophisticated cross-disciplinary technologies under an aggressive time to market pressure.

An entrepreneurial value creation perspective
The Framework
The series of seven articles during the next several months are meant to emphasize the importance of such a holistic, end-to-end perspective when the outcome success is predestined by the interdependency of the entire innovation and product delivery continuum. This continuum is represented here by a product innovation framework consisting of two principal parts: (i) opportunity incubation ─ an iterative front-end innovation spiral and (ii) product delivery ─ a stage-gate product development process. Even though these two constituents of the end-to-end value creation process have essentially different characters, they remain with a strong symbiotic affiliation. The overall framework encompasses a number of time-tested innovation and product development best practices which have been recognized by the majority of innovation practitioners and proven effective in a variety of different fields, including my own experience.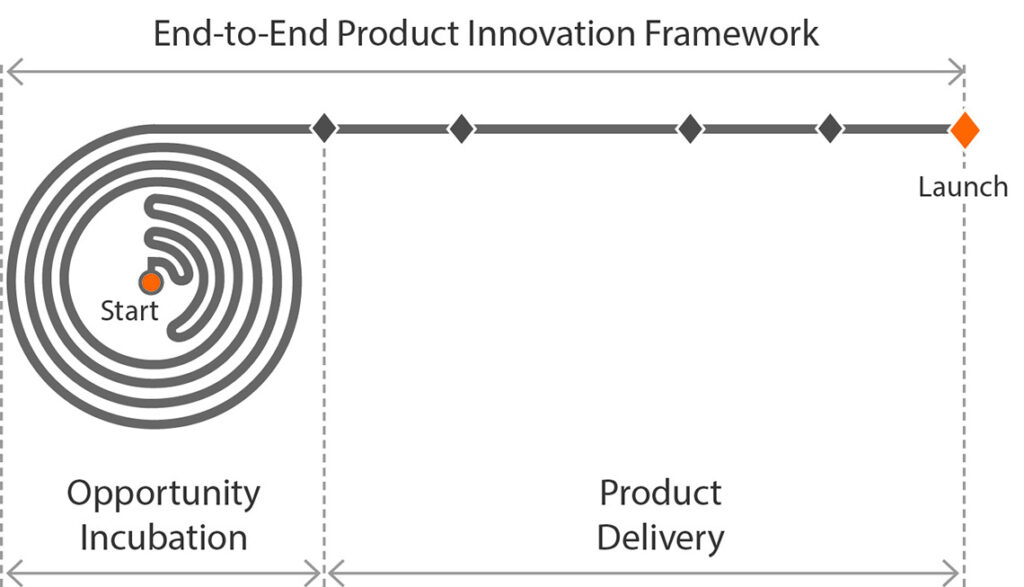 End-to-end product innovation framework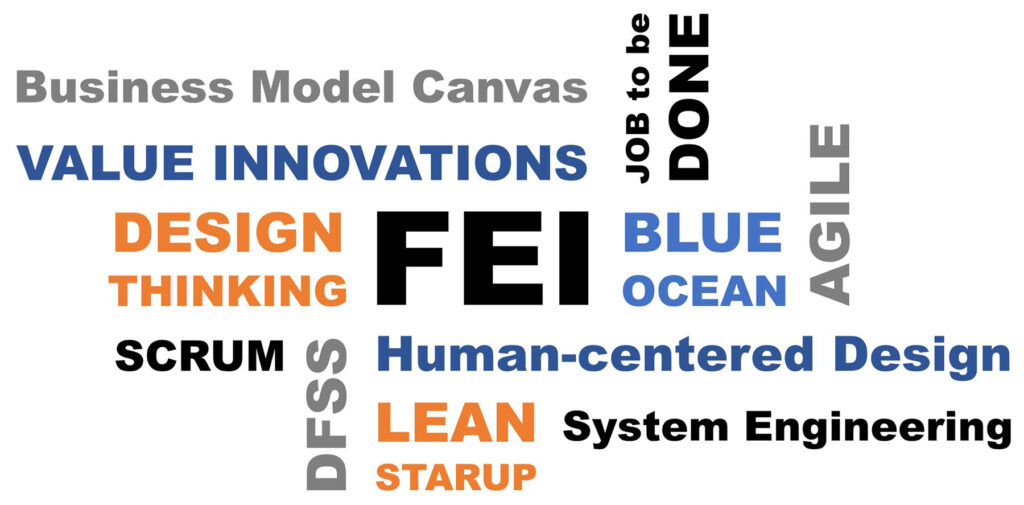 Selected innovation and product development approaches, tools, and best practices that are reflected in the end-to-end product innovation framework.
When creating something new, transformational, and purposeful that is at the same time desirable, sustainable, and profitable, we must wonder if there is a magic formula involved. Are the successes of the modern-age, mega-entrepreneurs such as Steve Jobs, Elon Musk, Jeff Bezos, and others, singular episodes in their respective domains? Specifically duplicating what they have done or how they have done it will probably not lead to the same outcomes, but perhaps there are certain principles shared by all successful entrepreneurial innovations regardless if they are disruptive or incremental. They all seem to be deeply rooted in a techno-anthropological understanding of people's needs in the context of changing lifestyles, social interactions, and technological advancements in order to create highly desirable and profitable solutions. Another humble intent of this series is to present the proposed new product innovation framework for such an ultimate challenge of entrepreneurial dream-catching by leveraging fundamental concepts and base principles.
Critical Thinking
The key notion is that concepts and principles have a holistic and timeless character. They do not necessarily provide instant answers but rather stimulate critical thinking around fundamental trade-offs. When such conceptual principles are organized in a logical, pragmatic, and interrelated manner, they help raise the right questions at the right stage of a solution inception. Even though no one can guarantee victory in a novel, innovative entrepreneurial pursuit, systematically and iteratively answering such questions could maximize our chances for success and help discover potential flaws before significant time and resources are spent.
If an idea is predestined to fail, we should expose it to failure as early as possible. Even today when artificial intelligence (AI) and machine learning (ML) have overcome human limitations in data processing capacity and can readily assist us in outcome decisions, the logic behind their algorithms is still based on first principles and foundational concepts.
Editor's Note: Selected topics from Milan Ivosevic's book, Eureka to Wealth: Conceptual Principles of Entrepreneurial Value Creation via New Product Innovation, will be featured as part of this Innovation Principles series in the following months:
Introduction (Oct. '23)
Entrepreneurial Perspective: End to End Product Innovation Framework (Dec. '23)
Opportunity Incubation: The Innovation Spiral (Jan. '24)
Opportunity Incubation: Business Case (Sizing the Opportunity and Go / No Go check) (Feb. '24)
Product Delivery: Development Strategy (Mar. '24)
Product Delivery: Delivery Effectiveness (Apr. '24)