This remarkable collaboration between Opie, her stylist, and Fran has sparked both excitement and speculation, raising questions about the impact of AI on innovation and talent for the beauty and fashion industries.
Algorithmically Assisted Photoshoot
Opie and her stylist were immediately captivated by the AI-generated image and reached out to Fran through Instagram. Intrigued by the possibility of creating a similar artwork featuring the model, they embarked on an innovative collaboration. Fran requested numerous photos of Opie from various angles to train the generative model, which then produced around 50 unique images within a mere 20-minute timeframe.
The resulting magazine spread represents a fusion of AI-generated and traditional editorial photographs, offering a striking blend and juxtaposition of imagery.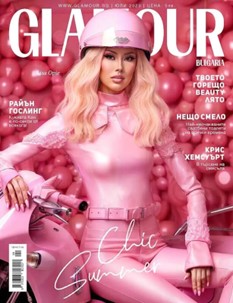 Talent Catalyst or Killer?
Unsurprisingly, the debut of the AI-generated magazine cover has elicited diverse reactions. Some view it as a potential threat to jobs within the beauty and fashion industry, raising concerns about the role of human photographers, stylists, models, and editors who have honed their talent and craft.
Some photographers are concerned over the loss of creative control. Many photographers take pride in their artistic vision and unique style. They worry that AI-generated photos could lack the human touch and creativity that sets their work apart. AI-generated photos might conform to predefined styles or follow popular trends, potentially limiting the photographer's ability to express their individuality.
However, others see it as an exciting example of the ongoing evolution of art and technology, where AI augments and collaborates with human creativity rather than replacing it entirely. In this view, AI-generated photoshoots represent a fascinating fusion of traditional craftsmanship and cutting-edge technology.
Finally, others see this as simply a new genre. Just as the enjoyment of paintings and vinyl records continue even though digital versions of these artworks are available, algorithmically-assisted photography expands the options available to creatives.
Implications for Innovators and Marketers
The advent of AI-assisted photography signifies a paradigm shift in the beauty and fashion industry. As a product development professional in this field, it raises three questions and opportunities for me:
Beauty Standards: AI photoshoots have the potential to both positively and negatively impact beauty standards. On the one hand, AI can foster creative exploration, pushing the boundaries of conventional beauty and inspiring new trends. On the other hand, AI photoshoots may exacerbate the pressure on individuals to conform to certain unrealistic ideals.
Product Development: From a product development standpoint, AI-generated imagery has the power to inspire new ideas and drive customization in the beauty industry. Consumers may seek to replicate or personalize the looks generated by AI, prompting product developers to create unique formulations, textures, and colors that cater to emerging trends. This opens opportunities for a more diverse range of beauty products and personalized experiences for consumers. However, it also presents a challenge for product developers and manufacturers to keep pace with a rapidly evolving landscape of AI-generated trends.
Authenticity: As AI becomes more prevalent in the fashion and beauty industry, the question of authenticity arises. Will brands that extensively use AI photoshoots be perceived as less authentic or trend laggards? It remains to be seen how consumers will respond to the balance between AI-generated imagery and real-life representations, and whether transparency about the use of AI will be necessary for maintaining trust.
Navigating the Future
Glamour Bulgaria's AI-assisted cover photo represents a paradigm shift that brings both excitement and challenges. It is crucial for innovators and marketers to embrace the opportunities while considering the implications on talent, innovation, and branding. As the industry evolves, finding the right balance between AI and human creativity will be key to harnessing the full potential of this technology while preserving the unique perspectives and talents that make the beauty and fashion industries thrive.